In January 28, the 2012 board of directors inTianjin Sungene biotech Co., Ltd was held at headquarter. In this conference, the directors discussed in depth on company's current situation, development strategy, institutional establishment, department adjustment and other issues; they approved a series of strategic decisions. During the meeting, Chairman Mr. Li Yaodong proposed to set up " Special award of the chairman", in order to award outstanding employees for profound contribution. The proposal was in favor of all the directors, they discussed in the meeting and decided that the first " Special award of the chairman" should award the two outstanding employees: Sales Manager Lingzheng Hong (bonus 20,000 yuan) and Quality Control Manager Zhao Xinxin(bonus 10,000 yuan).
In her early years, manager Hong Lingzheng was engaged in laboratory management and procurement work in foreign hospitals and medical research institutions; she had a rich work experience and extensive human resource at home and abroad, in the field of medical and biological agents, currently she serves as regional sales manager in Tianjin Sungene biotech. In 2012, personal sales of manager Hong Lingzheng reached seven digits, her award can be said to be deserved.
Zhao Xinxin was now served as quality control manager of Sungene biotech, she was well known for characteristic of rigorous and hardworking. In her leadership, quality control department was strict in the quality of our products, it is the most important part for the assurance of product quality. it was their efforts to make Sungene biotech to obtain the praise "excellent quality" from customers.
For " Special Award from Chairman", it will select two winners from managers and employees above managers each year. Such rule improved the internal incentive system of Sungene company once again, becoming one of the most important award. All employees of Sungene biotech will strive towards this honor in 2013!
Tianjin sales manager Hong Lingzheng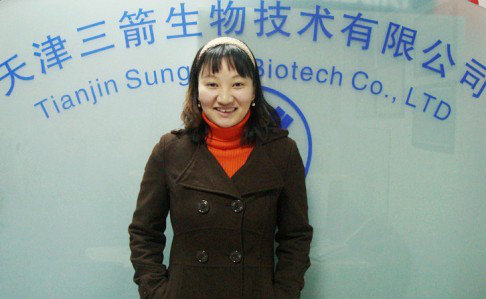 Quality control manager Zhao Xinxin